Holy Thorn Tree Damaged
It is with great sadness I report that Glastonbury's Holy Thorn Tree on Wearyall Hill has been damaged in a terrible act of vandalism overnight on Dec. 9, 2010, almost destroying one of the most celebrated pilgrimage sites in Britain, chopping off the crown of a tree said to have sprouted from the staff of Joseph of Arimathea 2,000 years ago.
The sacred tree is unique in that it blossoms twice a year - at Christmas and Easter - and sprigs taken from the thorn are sent to The Queen each year for the festive table. It can show signs of each season simultaneously, having buds, flower and fruit apparent at the same time.
We are all hoping that the roots willl survive and be able to put out new growth in the spring, so that it can once more take its place in the beautiful avalon landscape, and are calling for a protection order to be placed on the tree.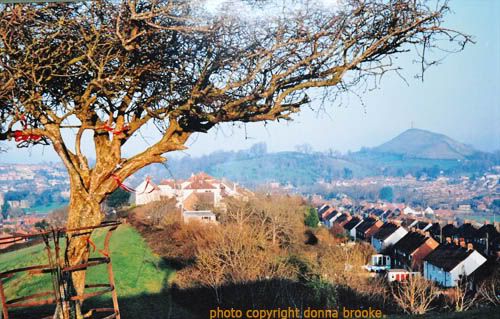 Clooties waving in the breeze, the Holy Thorn on Wearyall Hill.